What makes CampaignKit a great ZeroBounce alternative
ZeroBounce is a US-based company that was founded in 2015. It's one of the established email validation players in the market. ZeroBounce claims to be the market leader.
CampaignKit is a new player on the market launched in 2021. So what are the differences between the two and why should you consider CampaignKit as a ZeroBounce alternative?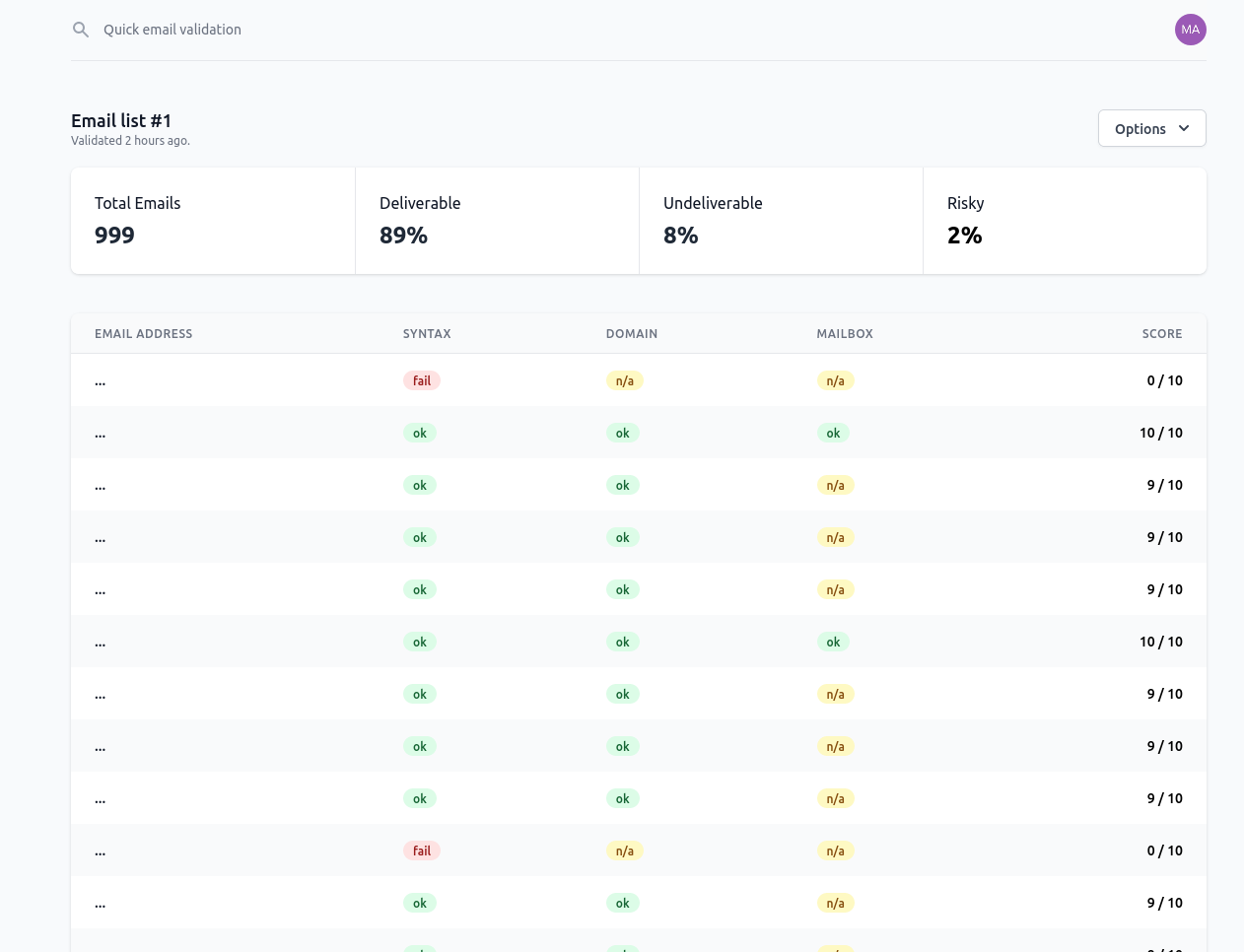 CampaignKit vs ZeroBounce comparison: What are the similarities?
Both companies provide email list cleaning services. Before we see the differences, let's see what are the similarities of both.
Bulk Email List Cleaning
CampaignKit and ZeroBounce provide a Web Interface to upload your email lists for bulk cleaning. The result classifies your email addresses in bounces, undeliverable and risky emails. You can see the validation results in the application and download the results as a Comma-Separated-File (CSV).
Email Validation API
Both services provide an Email Validation API which allows the integration of email validation into your own products and workflows.
To get started with our API integration read our Getting Started Guide.
Email Validation Rules
CampaignKit and ZeroBounce provide similar comprehensive checks to verify the validity of an email address. Both services use external data to reach a high accuracy to detect risky email addresses like frequent complainers and spam traps.  
Syntax validation - email address has a valid format according to RFC 5322
Domain validation - verify that the domain is valid and has a valid Email server that accepts emails
Role-based emails - detect role-based email addresses like [email protected] with low engagement
Spam trap detection - use blacklists to detect spam traps
CampaignKit vs ZeroBounce comparison: What are the differences?
While both services provide the same core services, there are some differences in how they are working.
Automated email list cleaning
CampaignKit allows you to configure schedules to perform automated email list cleaning. It validates newly added contacts automatically. Additionally, you can configure strategies when emails should be re-validated.  
Usage-based monthly invoicing
CampaignKit offers a real pay-as-you-go plan where you get invoiced once per month based on the usage. You don't have to buy credits upfront or subscribe to a monthly plan.
Location
CampaignKit is a European company (based in Germany). All servers are based in the EU and operated by the German cloud provider Hetzner. When it comes to GDPR compliance things become easier if the service is provided by a local provider.
Why is CampaignKit a great ZeroBounce alternative?
CampaignKit is a modern and simple to use email validation service with great accuracy and a strong focus on data privacy.
CampaignKit is here to support your email marketing and help you to protect your sender reputation and get your emails delivered to the inbox.
Do you have an email marketing list? Give CampaignKit a chance. Sign up for a free trial to clean your email list. You get 100 validation credits for free. No limitations on functionality.
Once you want to validate more, upgrade to our paid plan and get a monthly invoice with what you used. We give volume discounts. See our Pricing page to learn more.