10 Email Verification Tools for email list cleaning in 2022
The 10 best email verification services for email list cleaning in 2022.
It is common practice to clean your email marketing list from invalid and risky contacts. This lowers your bounce rates to a minimum, boosts your email deliverability and improves your email marketing metrics.
There are lots of email list cleaning services out there. Prices range from almost no costs to premium prices.
Let's have a look at the most used email verification services by marketers in 2022.
NeverBounce is a well-known email verification service based in the US. They got acquired by the public company ZoomInfo in 2018 which provides databases and tools for sales and marketing.
They offer one-time bulk email list cleaning, real-time email validation via API and pre-build Widgets and automated list cleaning capabilities via integrations to email marketing services like Mailchimp, ActiveCampaign, AWeber and much more.
You can find a full list of integrations on their website.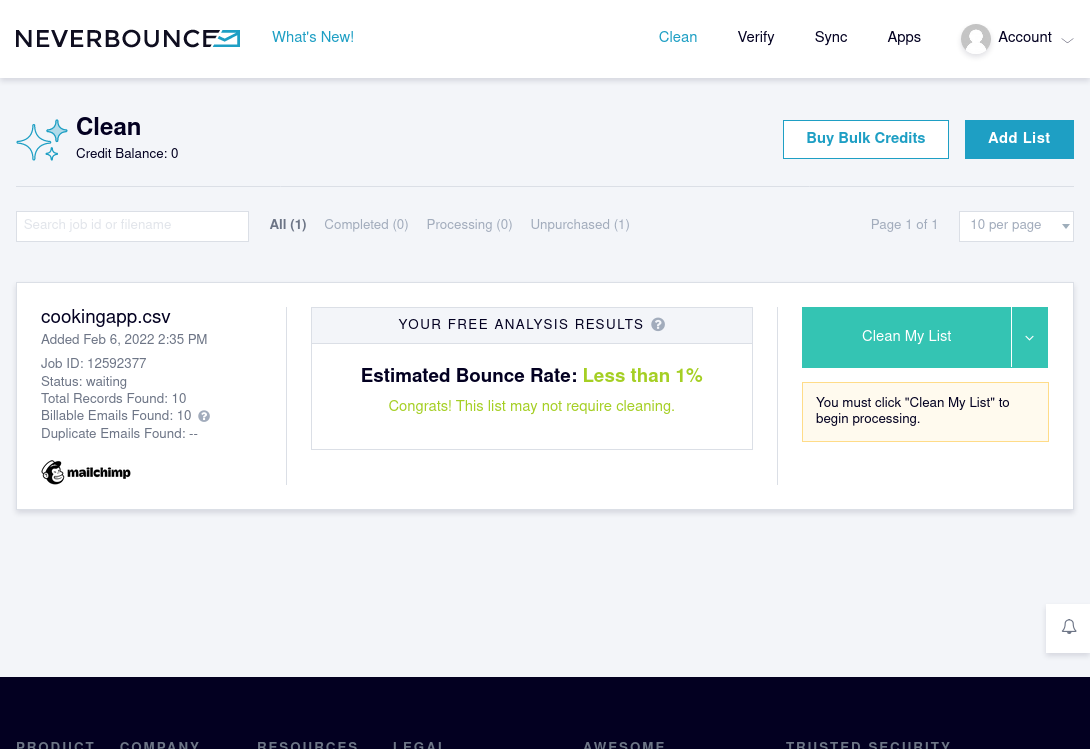 NeverBounce offers pay-as-you-go rates and monthly subscriptions. Like most other services the prices depend on the volume. Starting at 0.008$ per email for up to 10,000 emails.
Validation of 10,000 emails costs 80$.
ZeroBounce is another US-based company founded in 2015.
They provide a service for bulk email validation that supports TXT, CSV and Microsoft Excel files. Integration for other systems like HubSpot and Shopify is also available.
What's special about ZeroBounce is its offering around the A.I. Email Scoring. They claim to use data from external providers to get insights into the activities of an email address which can give valuable insights.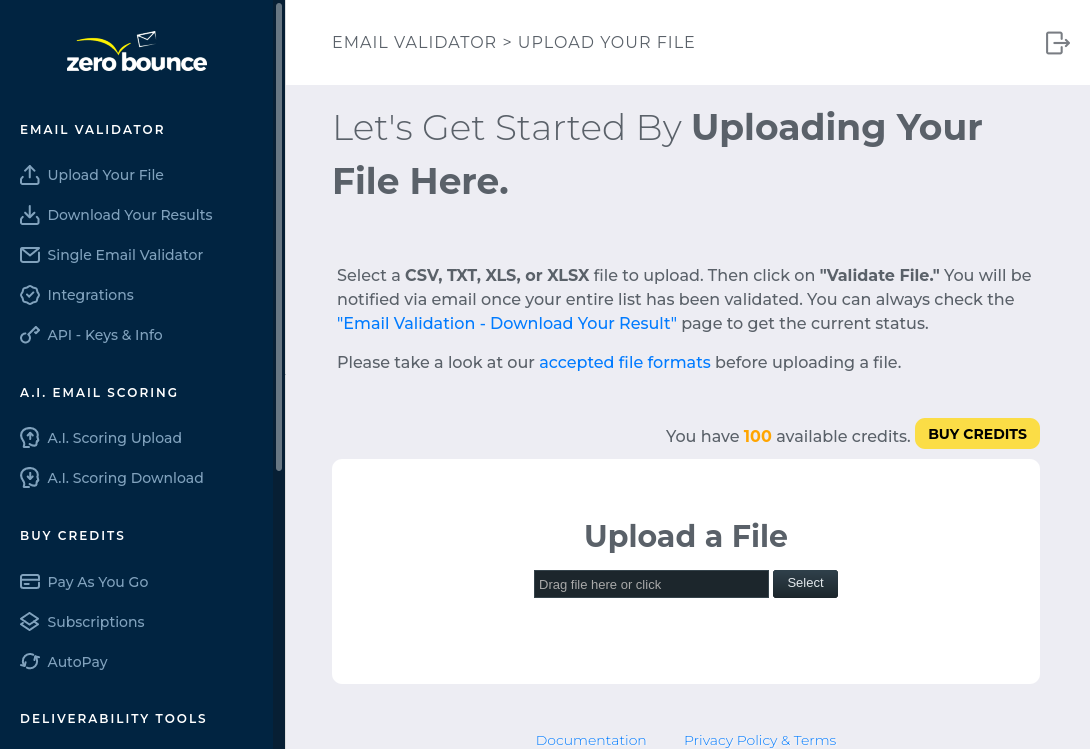 ZeroBounce provides a free option for up to 100 email validations per month. Paid plans start at 0.008$ per email. Compared to NeverBounce they provide more generous volume discounts.
Validation of 10,000 emails costs 65$.
Emailable is a US-based company that was founded in 2017.
Emailable provides solutions for bulk email cleaning, List cleaning automation, a Developer API and a widget to easily embed email validation on your website.
When testing the service I was a bit surprised, that my normal company email address in the form ([email protected]) hosted by Microsoft Office 365 was classified as risky.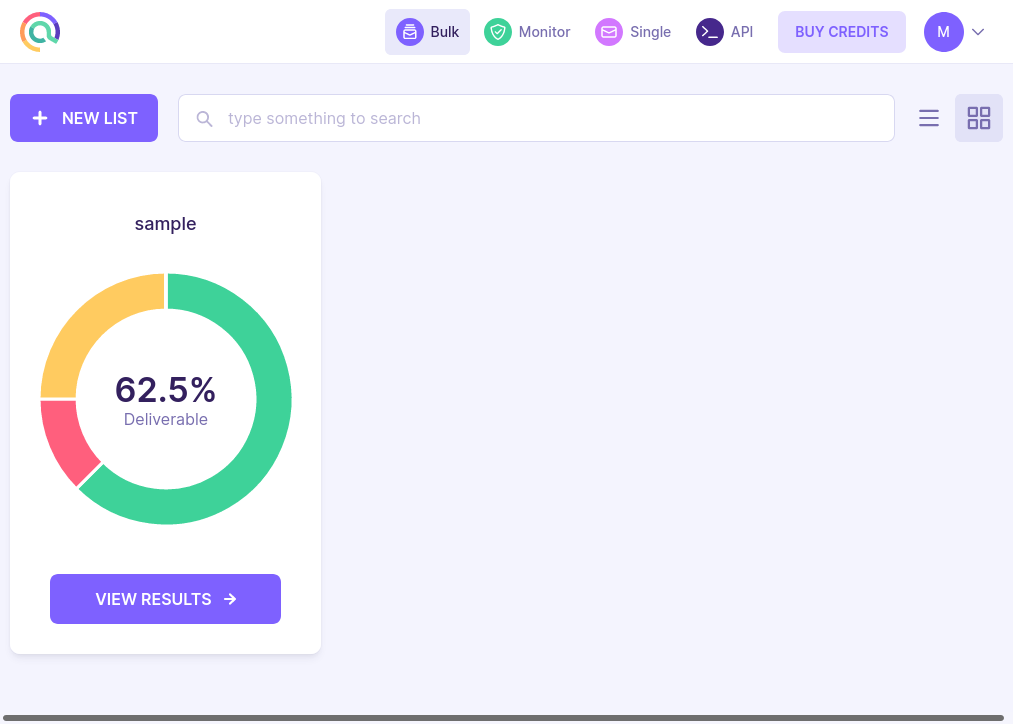 With Emailable you buy credits that are used for pay-as-you-go email validations. They also provide monthly plans for discounts and also provide much cheaper plans for regular list monitoring.
Validation of 10,000 emails costs 60$.
FreshAddress is an Us-based company founded in 1999. They provide email list cleaning and data enhancement services. According to their website, they can detect and match email address changes with their database.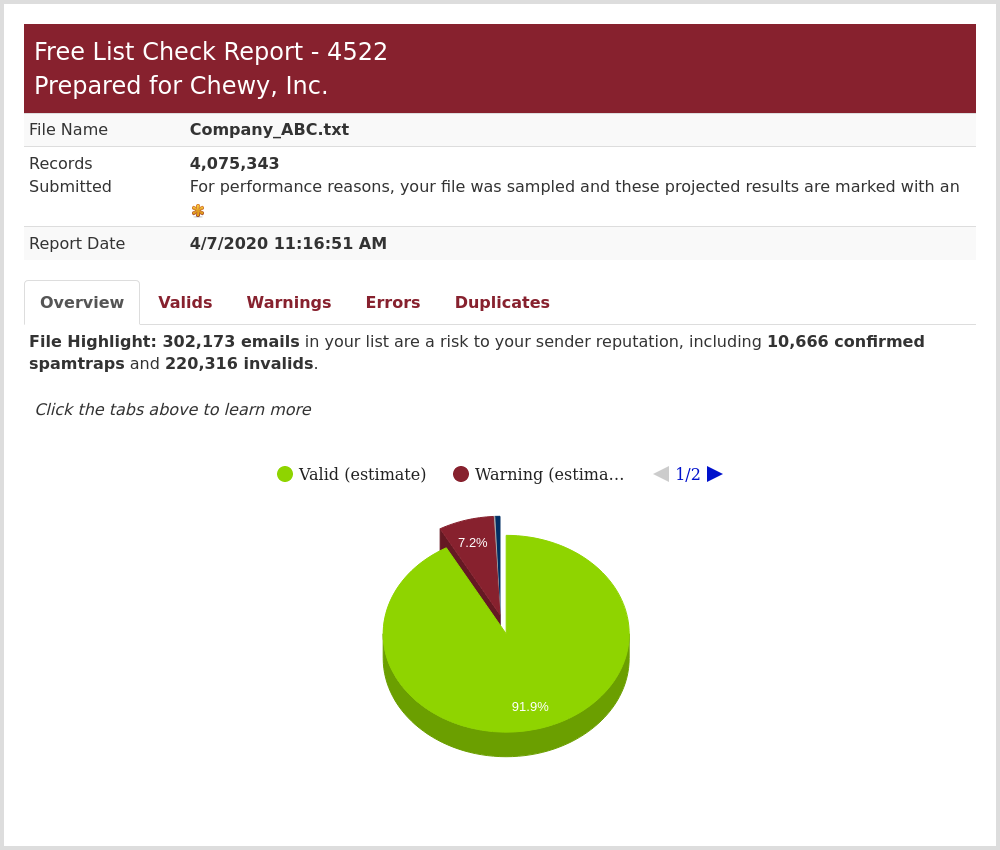 FreshAddress doesn't reveal any pricing. They offer a free email list check which shows an aggregated report. You cannot download the detailed results.
xVerify is another US-based company that provides an email validation service.
They provide a bulk email validation service and offer various integrations. xVerify is the only provider which has support to pick data from FTP servers. But caution: FTP (without the s) is an unencrypted protocol. This is not the right channel to transfer sensible information across the internet.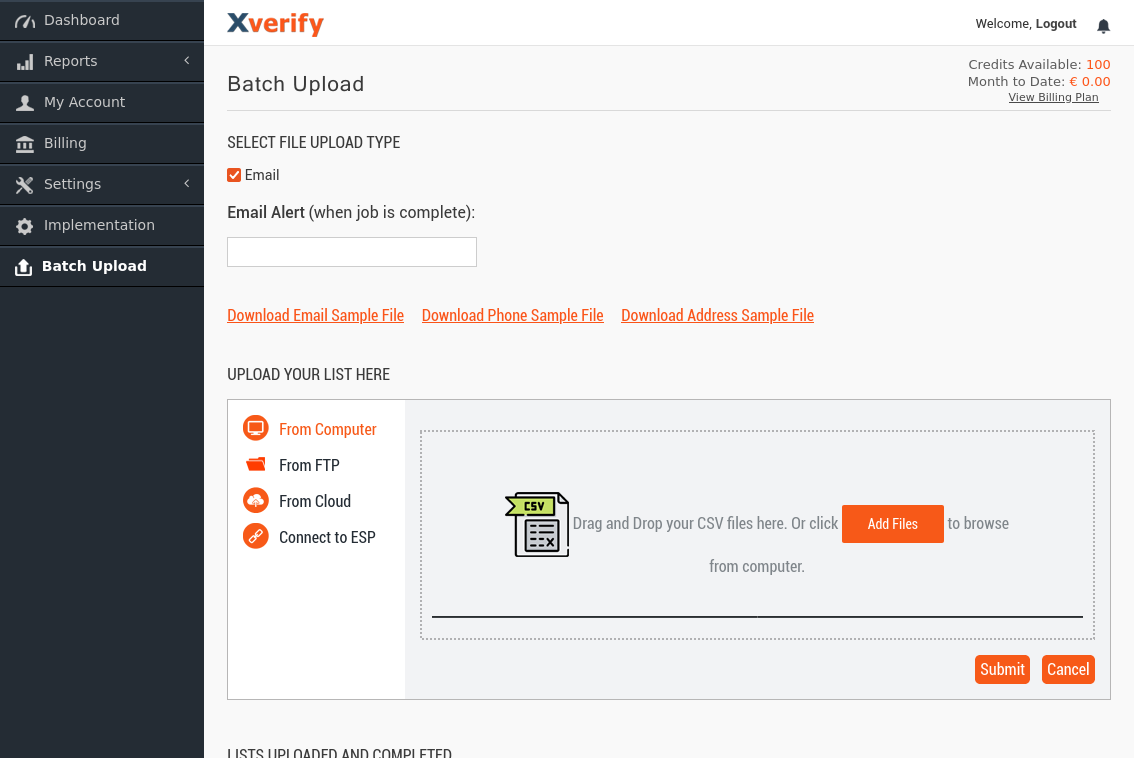 xVerify offers pay-as-you-go plans where you buy credits with volume discounts. Their plans start with 0.0092$ per email validation.
Validation of 10,000 emails costs 70$.
Mailgun is a US-based well-known company for transactional email services.
The service targets mostly existing Mailgun users that are already sending emails with their service. They don't provide integrations for other email providers.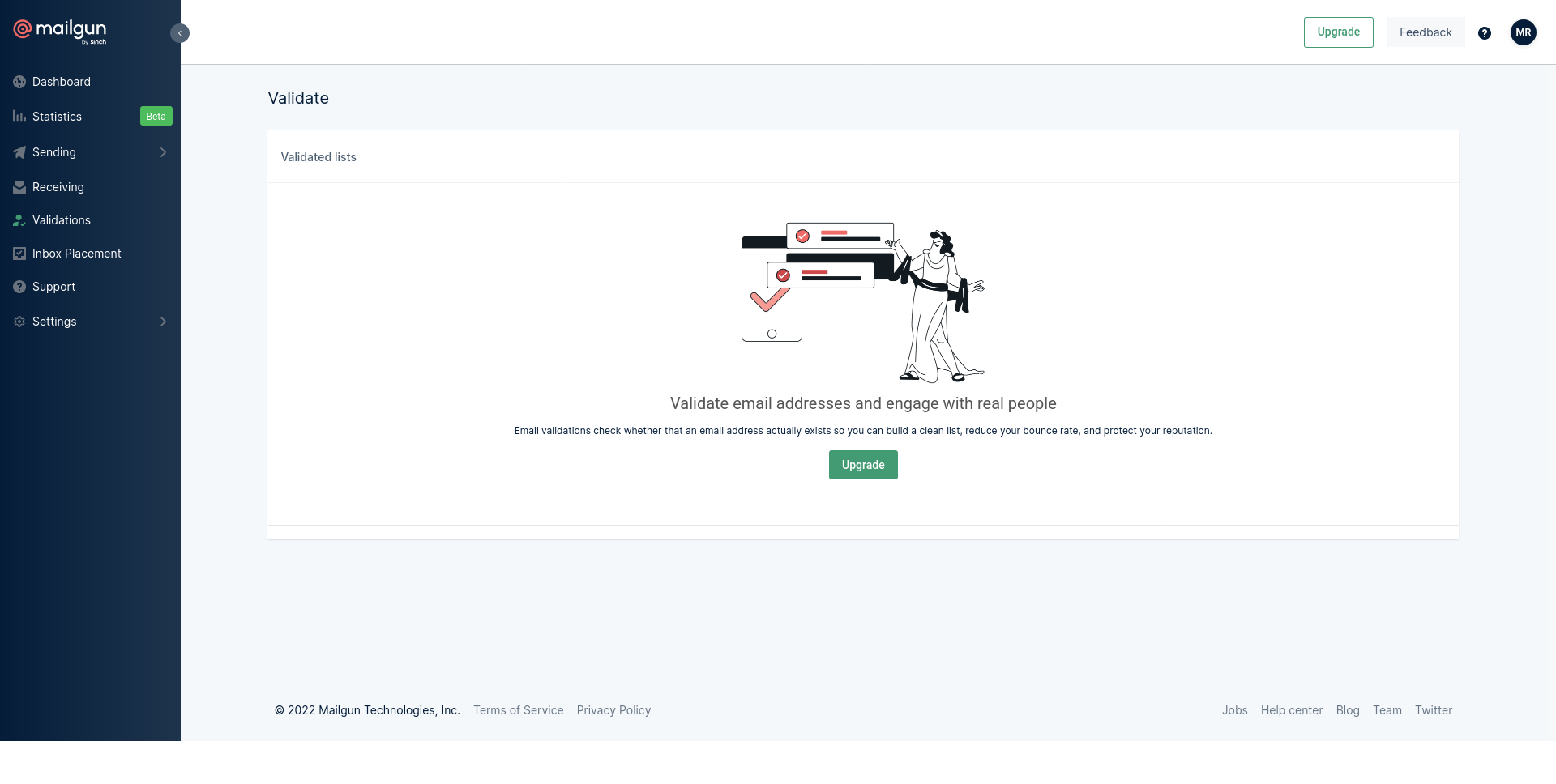 Mailgun offers email verification services for their users with paid subscriptions. Subscription plans start at 35$ per month. An email validation costs 0.012$ per email.
Validation of 10,000 emails costs 120$.
Debounce is an Indian based company that was founded in 2018. They provide bulk email validation and monitoring solutions. Additional services are provided for data enrichment and email address finder.  
Debounce is one of the low-cost providers on this list. Their pricing starts at 0.002$ per email and offers volume discounts. If you're looking for a low-budget service this could be an interesting option.
They are currently not accepting any new users though. According to their website, it's to protect the quality of service for their existing user base.
Validation of 10,000 emails costs 15$.
ListWise is a service provided by CyberCom which is based in Australia.
What surprised me during my tests was the time it took to validate a list of 8 email addresses. The cleaning process took around 3 minutes. The sample lists contained one valid email address from a German provider which got rejected with the validation result "SMTP timeout".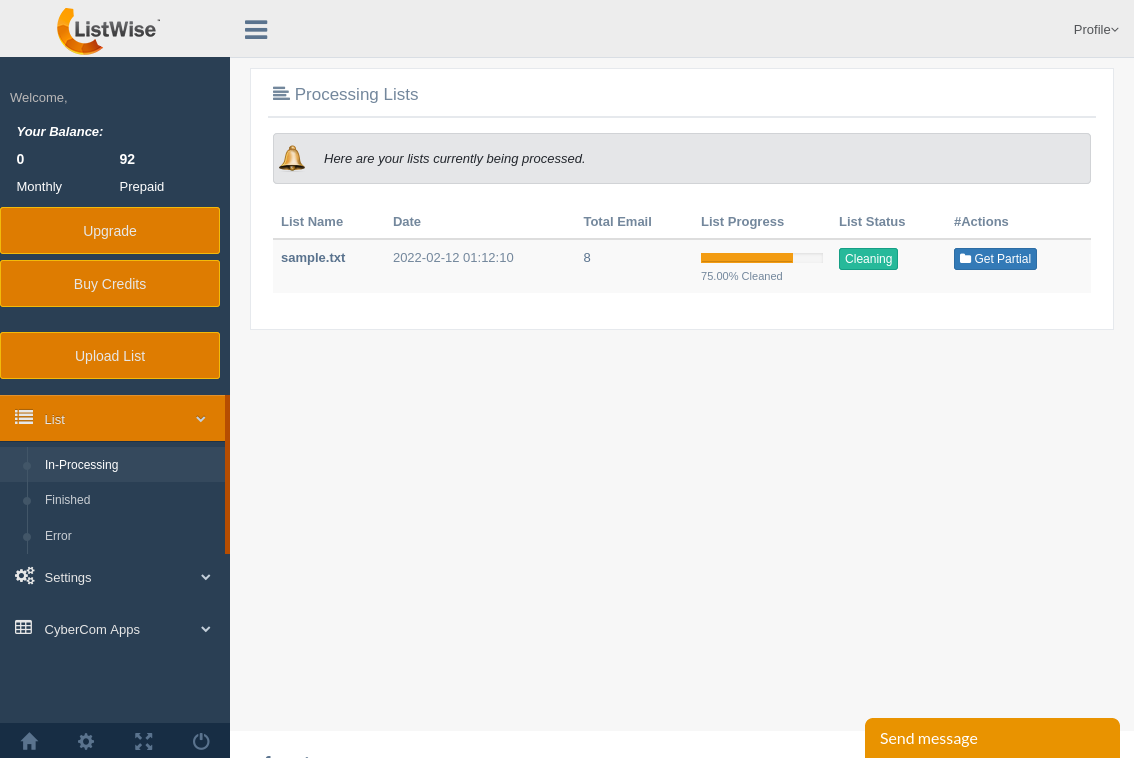 A one-time validation of 10,000 emails costs 10$. The monthly plan for up to 10,000 emails costs 44$.
Bounceless is a US-based email validation service.
Their email validation service offers a wide range of integrations. Apart from the various Email marketing providers they provide the capability to connect to Microsoft OneDrive, Box and Google Drive.
During my sample run, the validation of 10 email addresses didn't finish after 10 minutes.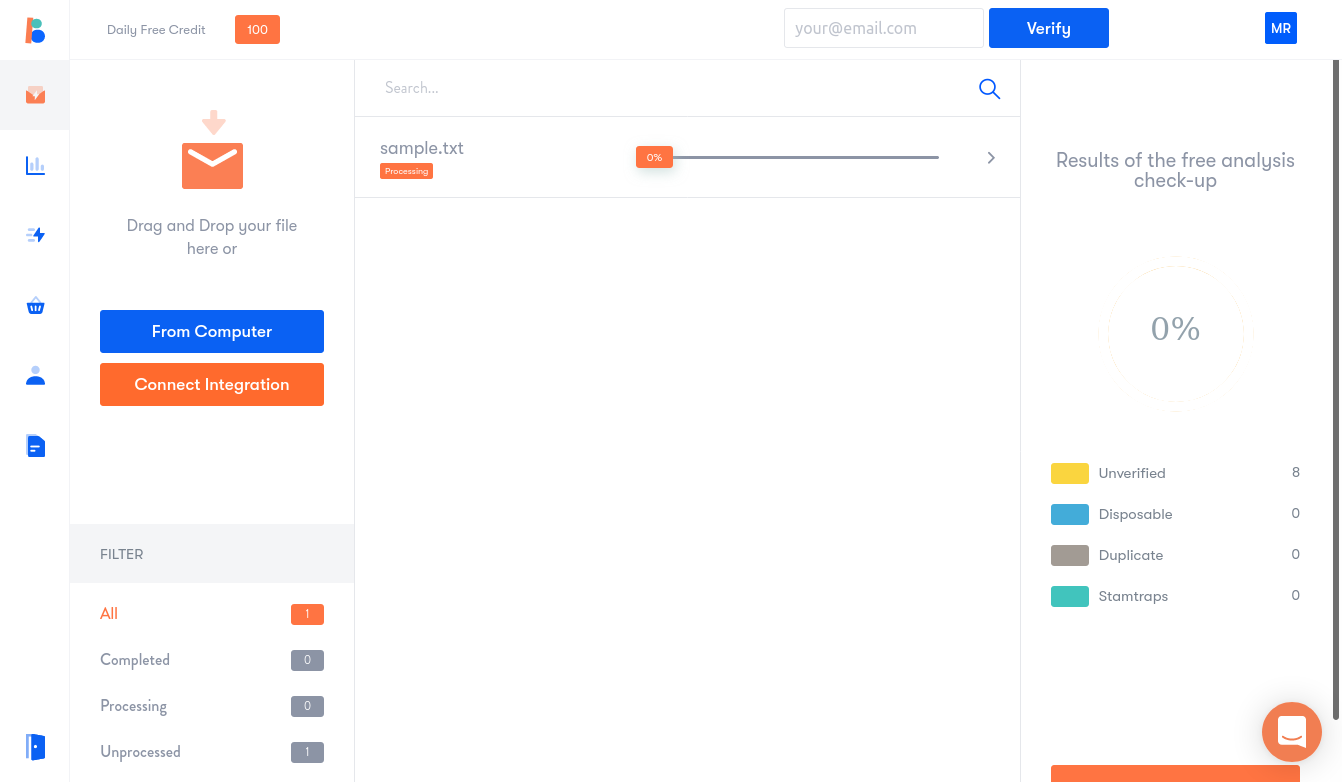 Bounceless offers pay-as-you-go and monthly subscription plans. Their email validation starts with 0.0076$ per email with volume discounts. Credits are bought in packages. Smallest package starts for 19$ for 2,500 validations.
Validation of 10,000 emails costs 59$.
CampaignKit is the only email validations service based in Europe. Unlike other services, it has a special focus on European ESPs.
Single email validations are offered for free. For bulk email validation a CSV or text file can be uploaded. A detailed result is available in the UI and can be downloaded as a CSV.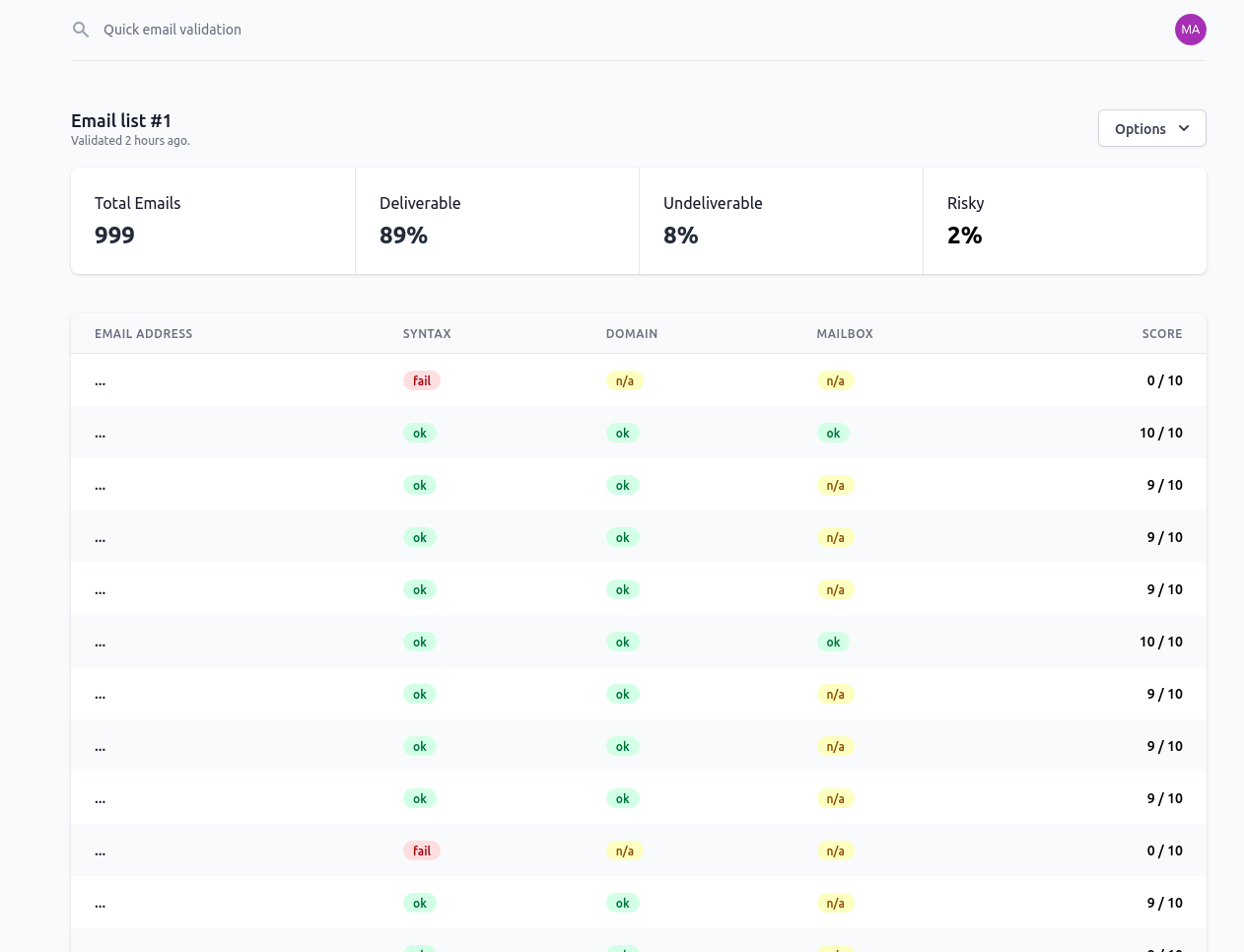 CampaignKit provides usage-based monthly invoices with volume discounts. Instead of buying credits in advance or subscribing to a fixed monthly plan you get a monthly invoice based on your usage. Their plans start at 0.0062$ per email.
Validation of 10,000 emails costs 52$. Sign up for a free account to give it a try.
Conclusion
When it comes to email validation services, there are various players on the market. Most providers are based in the US and mostly target ESPs in the US market.
CampaignKit is the only EU-based validation service which a special focus on European ESPs.
Prices for 10,000 email validations range between 50$ and 80$. With debounce.io, there is a low-budget option from India that offers this validation for 10$ but is not accepting any new customers.